24th July 2015
Zenith Welcomes Bethany
Bethany joins the team at Zenith working within the administration department. She will be supporting the entire group of companies from Refitment & Pola Flooring to Contractors and Painting & Decorating. Currently Bethany is supporting Zenith Refitment Services.
Bethany Gregory, from Coventry started at Zenith in February this year and has got to grips with the role very easily.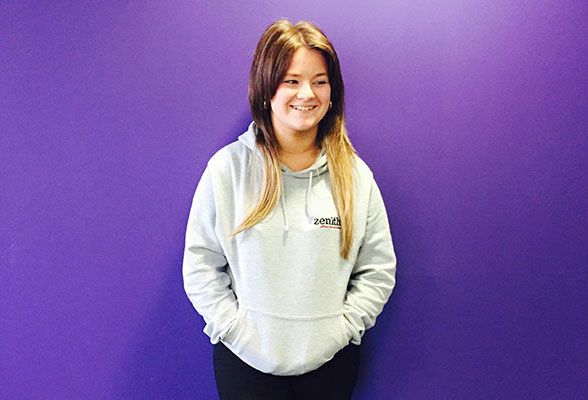 We thought it would be good to get to know her a little more with a few quick fire questions:

1) What attracted you most about the role at Zenith?

I liked the fact that you can progress and work your way up the company, as there are many new and different opportunities. It is also a larger company than my previous employment, which interested me.

2) How would you describe yourself as an individual?

I would say I'm an honest and reliable person who is also very determined and hard working.

3) What's a typical day for you?

I start with doing general day-to-day office administration duties such as placing and managing orders for Zenith Refitment Services. I also respond to general enquires on the telephone, online and emails. I will then assist the accounts department with invoicing and payments. More recently I have been tasked with developing and organising the sales of new cleaning products for Zenrite Ltd.

4) What do you enjoy most about the role?

I would say the variation – no two days are the same. One day I could be organising the job sheets for Contractors and then the next responding to enquires for new flooring projects. The progression opportunities are great too; I have already been booked to attend the IOSH Managing Safety course in August, which I'm looking forward to.

To find out more about Zenith and our recruitment opportunities please click here to contact us.