9th November 2016
A Significant Step in the Continued Expansion of Property Refurbishment
The group has taken a significant step in the continued expansion of its property refurbishment business with the implementation of a dedicated Small Works division within Zenith Refitment Services Limited.
The success of Zenith Refitment Services has seen the business develop into major contracts with extended contract programs. To enable the major works team to continue building on this success, Paul Ashcroft has been appointed to provide a resource dedicated to fast-track and primarily owner/occupier projects. These contracts require a more hands on approach committed to meeting client's expectations and changing requirements at short notice.
Paul has significant experience in managing multiple small contracts in the construction industry and brings considerable Project & Technical Management skills to the business.
Whilst providing a resource committing to expanding the Zenith Groups offer to an existing substantial customer base, Paul will be seeking to expand the small works team into new markets within the Greater Midlands.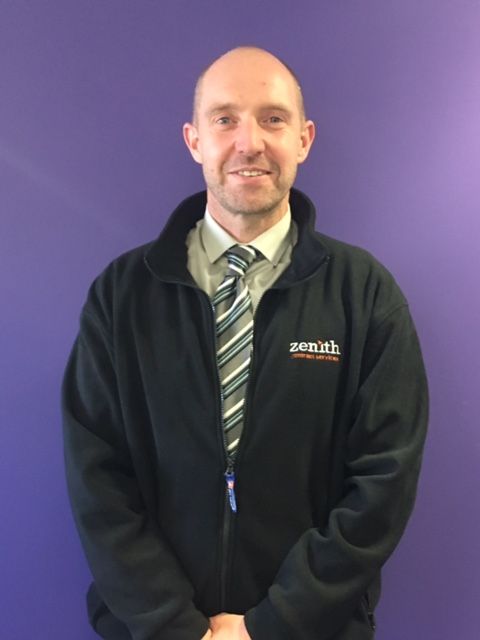 We thought it would be good to get to know Paul, his background and what a day in the life of a Small Works Manager within Zenith Refitment is like.
What attracted you to the role?
The fact this is a new role enables me to mould and develop this as my own. I also did a lot of research into the company and liked the identity they had built for themselves and they fact they are a family orientated company.
How would I describe myself as an individual?
Methodical and trustworthy, I relish juggling multiple projects and ensuring each and every project runs smoothly. I have a strong technical background, so can easily turn my hand to any projects that require my assistance.
What is involved in a typical day for you?
Our projects can range from minor adaptations to perhaps existing access doors or partition layouts to a complete refurbishment of small offices or welfare facilities programmed over a few weeks. This will involve daily/weekly site visits and close liaison with on-site contractors to ensure all projects are running smoothly and resolving any issues.
What do you enjoy most about your role?
You never know what each project can lead into. I enjoy the challenge that each project presents and building relationships with my clients to ensure we meet their precise requirements. I am looking forward to the prospect of growing and developing the Small Works division of the business. I want Zenith to leave a lasting impression!
Find out more here about our Commercial Refurbishment Services and what solutions they can provide, or get in touch with Paul on 024 7668 7167.